The Triple Helix model and the competence set: human spare parts industry under scrutiny
Triple Helix
A Journal of University-Industry-Government Innovation and Entrepreneurship
2016
3:8
Received: 26 November 2015
Accepted: 14 July 2016
Published: 25 July 2016
Abstract
The main aims of this paper are (a) to construct a generic conceptual model for the Triple Helix model based on competence sets and hence (b) to identify the system-level generic competencies needed in the emergence of a new industry. This paper suggests that to gain additional analytical leverage on the Triple Helix model, we need to study it also by focusing on generic competencies called for in the interaction between the main institutional spheres. Hence, there is a need to focus on interacting and conflicting system-level generic competencies that either enhance or hamper innovation processes. It is believed here that a competence set is the core of any Triple Helix constellation, but it is also believed that different competencies are manifested in a variety of ways depending on the nature of the specific system and related industries. The competence set model is elaborated upon by using the emergence of human spare parts industry in Tampere, Finland, as an illustrative case to highlight the otherwise conceptual discussion.
Keywords
Innovation systemCompetenceUniversityRegenerative medicineHuman spare partsFinland
Résumé
Les objectifs principaux de cet article sont : (a) de construire un modèle conceptuel générique de Triple Hélice basé sur le jeu des compétences et ainsi (b) d'identifier les compétences génériques au niveau système nécessaires à l'émergence d'une nouvelle entreprise. Cet article suggère que pour obtenir un effet de levier analytique supplémentaire sur le modèle de la Triple Hélice, il importe de l'étudier également en mettant l'accent sur les compétences génériques nécessaires à l'interaction entre les principales sphères institutionnelles. Par conséquent, il est nécessaire de s'appesantir sur les compétences génériques d'interaction et d'antagonisme au niveau système qui favorisent ou handicapent les processus d'innovation. Cet article admet que le jeu de compétences est le cœur de toute constellation de Triple Hélice; il admet également que les différentes compétences se manifestent d'une variété de façons, selon la nature du système considéré et les entreprises associées. Le modèle de jeu de compétences est conçu en utilisant comme illustration l'émergence de l'industrie des pièces de rechange humaines à Tampere, en Finlande, pour mettre en évidence une discussion autre que conceptuelle.
Resumen
Los principales objetivos de este trabajo son: (a) la construcción de un modelo conceptual genérico para el modelo de la Triple Hélice en base a "conjuntos de competencias," y por tanto (b) identificar las competencias genéricas a nivel de sistema necesarias para el surgimiento de nuevas industrias. Este documento sugiere una mejora al modelo de la Triple Hélice que consiste en elevar la importancia de competencias genéricas dentro del análisis institucional. Por tanto, enfatizamos la necesidad de centrarse en la interacción y el conflicto de competencias transversales a nivel de sistema que pueden exacerbar o dificultar los procesos de innovación. Creemos que un conjunto de competencias es el núcleo de cualquier constelación de la Triple Hélice, pero también creemos que las diferentes competencias se manifiestan en una variedad de formas, dependiendo de la naturaleza de cada sistema de innovación y cada industria. Ilustramos el modelo propuesto de conjuntos de competencias con un análisis del surgimiento de la industria de prótesis humanas en Tampere, Finlandia.
摘 要
本文的主要目的是:(一)基于竞争力集构建三螺旋的一般概念模型;(二)确定在一个新产业出现过程中所需要的系统级的一般竞争力。本文认为,为了获得分析三螺旋模型的其他分析工具,我们也需要专注于要求主要机构范畴之间相互作用的一般竞争力研究。因此,有必要聚焦于相互作用和相互冲突的系统级一般竞争力,不论它是加强还是防碍创新过程。在此我们相信:一个竞争力集是所有三螺旋星座的核心;我们也相信:不同的竞争力通过各种不同方式表现出来,取决于具体的系统和相关产业的性质。通过人类备件产业在芬兰坦佩雷的出现,本文详细说明了竞争力集模型,以此作为典型案例突出这个相反的一般概念的讨论。
Aннoтaция
Ocнoвными цeлями дaннoй cтaтьи являютcя: (a) coздaниe oбщeй кoнцeптуaльнoй мoдeли Tpoйнoй cпиpaли, ocнoвaннoй нa кoмпeтeнцияx, и, oпocpeдoвaннo, (б) oпpeдeлeниe cooтвeтcтвующиx кoмпeтeнций, учитывaющиx cпeцифику уcлoвий фopмиpoвaния coвpeмeннoй пpoмышлeннocти. B нacтoящeй paбoтe выдвинутo пpeдпoлoжeниe, чтo для дocтижeния дoпoлнитeльныx пpeимущecтв в paмкax мoдeли Tpoйнoй cпиpaли, мы дoлжны пpoaнaлизиpoвaть oбщиe кoмпeтeнции, нeoбxoдимыe для взaимoдeйcтвия ocнoвныx инcтитутoв дpуг c дpугoм. Taк, cущecтвуeт пoтpeбнocть в oбщиx умeнияx в oблacти дeлoвыx пepeгoвopoв и peшeния кoнфликтoв, кoтopыe oпocpeдoвaннo мoгут кaк улучшить, тaк и зaтopмoзить иннoвaциoнный пpoцecc. Cущecтвуeт мнeниe, чтo нaбop кoмпeтeнций cocтaвляeт ocнoву Tpoйнoй cпиpaли, a тaкжe чтo paзличныe кoмпeтeнции пpoявляютcя пo-paзнoму в зaвиcимocти oт уcлoвий, в кoтopыx cклaдывaeтcя тaкaя cиcтeмa, и oтpacлeй, oтнocящиxcя к нeй. Moдeль нaбopa кoмпeтeнций paзpaбoтaнa c иcпoльзoвaниeм индуcтpии пoдгoтoвки кaдpoв в Taмпepe, Финляндия в кaчecтвe пpимepa, cпocoбнoгo пpoиллюcтpиpoвaть вeдущиecя oбcуждeния.
Resumo
O objetivo desse artigo é: (1) de construir um modelo conceitual genérico para o modelo de hélice tríplice baseado em conjunto de competências e, portanto, (b) de identificar as competências genéricas no nível do sistema necessárias na emergência de uma nova indústria. Esse artigo sugere que para ganhar vantagem analítica adicional no modelo de Hélice Tríplice, é necessário estuda-lo também se concentrando nas competências genéricas requeridas para a interação entre as principais esferas institucionais. Consequentemente, existe uma necessidade de focar na interação e nos conflitos no nível das competências genéricas que tanto fortalecem quanto prejudicam o processo de inovação. Acredita-se que um conjunto de competências definido é o coração de qualquer uma constelação da Hélice Tríplice, mas também se acredita que competências diferentes são manifestadas de diversas maneiras dependendo da natureza do sistema específico ou das indústrias relacionadas. O Modelo de definição do conjunto de competências é elaborado com base na emergência da indústria de reposição de peças humanas em Tampere, Finlândia como um caso ilustrativo que põe em evidência a discussão de outra forma conceitual.
JEL classification
O31O32O33
Multilingual abstract
Please see Additional file 1 for translation of the abstract into Arabic.
Introduction
Universities have increasingly been seen as the core instruments of local, regional and national economic development. This may be a result of the observation that, as many traditional industries have been hollowing out, and as many local economies have been losing their leading firms, the university often emerges as one of the few solid and locally rooted resources to draw upon. It is one of the cores in the dynamic interaction between 'the three institutional spheres', universities, industries and government, fostering entrepreneurship, innovation and economic growth (Etzkowitz and Leydesdorff 1997; Etzkowitz 2008). The core idea of the Triple Helix model revolves around three basic premises: (1) universities are playing a central role in innovation side by side with industries and governments; (2) while earlier innovation policy was to a large extent designed and implemented by governments, today, it is fairly commonly an outcome of complex interplay between governments, industries and universities; and contradictorily, the Triple Helix also argues that (3) in addition to taking care of their traditional functions, the three institutional spheres adopt new roles and also perform the roles of the other spheres. In this model, actors taking non-traditional roles are seen especially important and potential sources of innovation (Etzkowitz and Leydesdorff 1997; Etzkowitz 2008).
Drawing upon their literature review, Cai and Cui (2015) maintain that the Triple Helix model has not been free of problems. It is criticised for remaining at an abstract level, lacking solid theoretical basis at a microlevel, not adequately addressing the issues emerging when actors adopt each other's roles and lacking the contextual sensitivity across countries and social settings (Cai and Cui 2015). Additionally, in spite of the fact that the concept of competence is, at least implicitly, strongly linked to the Triple Helix literature, it has only recently gained more attention (Ranga and Etzkowitz 2013). Lester (2007, 1) crystallises the increased need to better understand competences related to innovation systems by arguing that there are clear differences in the overall capabilities of nations and regions to adapt to the global economy with equal success. Some simply seem to be better in taking up new technological and market knowledge and to apply it effectively. In Triple Helix constellations, competences (in direct and/or indirect interaction) generate, stimulate and/or frame the overall functioning of a system and its transformation (Eliasson 2000). Consequently, as suggested by Ranga and Etzkowitz, competences also shed light on the ways main actors come together in 'consensus spaces', and move to construct 'innovation spaces' for realisation of the goals articulated in a consensus space (see Ranga and Etzkowitz 2013). Our earlier studies in Finland reveal that while the main actors may trust each other's integrity and trustworthiness, they may have difficulties in trusting mental models and specific profession-based capabilities of 'the others' (Sotarauta et al 2003).
This paper suggests that to gain additional analytical leverage on the Triple Helix model, and the three spaces in the core of it, we need to study it also by focusing on generic competences called for in the interaction between the main institutional spheres. The concept of generic competence refers to those higher order abilities that are called for to learn, innovate, anticipate and create and/or to generate conditions for learning and innovation (cf. Brown 1994; Wadhwa and Rao 2000).
As suggested by the ever expanding Triple Helix literature, there is a need to find a way to link the concept of competence in the debate by reaching beyond the narrow organisational view. For these reasons, this paper constructs a competence set model aim being to contribute to the Triple Helix debate. This paper is built on an assumption that, when enhancing the interaction between the three institutional spheres, there is a need to understand how a set of competences can be shaped for a more productive collaboration. It is exactly to this end, the competence set model is introduced to discuss the interconnected nature of generic competences required in innovation, business growth and economic renewal. The second assumption thus is that by the competence set model, it is possible to understand how competences are spread across the three institutional spheres and several organisations. The competence set is a configuration of competences that in direct and indirect interaction generates new knowledge as well as its diffusion and valorization (see Eliasson 2000).
The two interrelated research questions we set out to address are what kind of generic competences are called for in the emergence of a new science-based industry and how do generic competences interact in a Triple Helix constellation. For this end, the focus in this paper is on system-level generic competences instead of the competences of an individual organisation. The concepts of competence and the competence set are elaborated upon by using the emergence of human spare parts industry in Tampere, Finland, as an illustrative case to highlight the otherwise conceptual discussion.
Towards a competence set model in the context of Triple Helix
The concept of core competence
In organisation and management studies, the concept of core competence has become one of the key concepts in the efforts to understand why some firms succeed while others do not, and, as it is believed in this paper, it has a potential to add analytical leverage also in studies focusing on Triple Helix constellations. The key rationale in bringing these fairly disconnected bodies of literature together is that there is much to be learnt across these broad fields of knowledge. In competence thinking, the basic idea is that an organisation should comprehend its own core competences and capabilities in order to utilise the resources available (Pralahad and Hamel 1990). It is also assumed that competences change more slowly than products and markets, and hence, the identity of an organisation should not depend on products and markets but on something more lasting, something that lies at the very core of the organisation's activities and success (Tuomi 1999, 82–83). Durand (1998, 306) connects competences directly to an organisation's resources and property and to individual and organisational capabilities, knowledge, processes, routines and culture. Javidan (1998, 62) uses the concept of competence to refer to the combining and coordinating of capabilities cutting across functions. Core competence, drawing upon the theory of Pralahad and Hamel (1990), may be defined predominantly as a collective learning process across the innovation system. For its part, generic competence is taken here to be specifically capability and expertise that is potentially common to several organisations in a Triple Helix constellation but may also be embedded in a single organisation that has a central position in a system. Generic competences are thus distributed over many operations either within an organisation or across them, and therefore, from the Triple Helix point of view, it is essential to approach them from systemic instead of organisational perspectives. For that purpose, a conceptual link between competence thinking and Triple Helix is constructed by a competence set model.
From competence bloc theory to competence set model
The competence set model is inspired by the competence bloc theory (Eliasson 2000), but as the competence bloc theory was mainly constructed to better understand and explain business growth in biotechnology, it needs to be extended with additional competences to provide an analytical tool for broader scrutiny of Triple Helix constellations. The competence of actors and their interaction determines the quality of a competence set and, as assumed here, also interaction in the context of a Triple Helix. Additionally, a set of competences attracts competent investors who contribute positively to the attractiveness of a Triple Helix constellation (Eliasson 2000). A minimum critical competence mass and variety are needed before a Triple Helix becomes truly functional, and, according to Eliasson and Eliasson (1996), the following actors usually play central roles (modified slightly): (a) competent and active customers and users, (b) innovators who combine new knowledge and technologies in novel ways, (c) entrepreneurs who identify profitable innovations and prepare them for initiation in the market, (d) competent venture financiers who recognise and finance the entrepreneurs, (e) exit markets that facilitate ownership change and (f) industrialists and other established actors who take successful innovations to industrial-scale production. (Eliasson and Eliasson 1996).
Eliasson (2000) strongly associates competences with the selection of winning technologies and corporate winners, and conversely losing technologies and corporations, and thus, it adds analytical leverage to the Triple Helix relationships that are, according to Cai (2014), 'about competition and cooperation for resources, redistribution of power, and network building'. However, importantly, the Triple Helix model reminds that the question is not only about selection of 'winners' and 'losers', or individual companies or narrow industrial sectors, but also more profoundly and broadly about extensive collaboration across institutional spheres for economic growth and renewal. Thus, the question is about how new knowledge emerges, how it generates variation and how selection is made, and thus, moving beyond the narrow organisational and sector-based approaches is fundamental to better support construction of knowledge, consensus and innovation spaces that play a central role in Triple Helix constellations (Ranga and Etzkowitz 2013).
As Ranga and Etzkowitz (2013) maintain, the main ingredient in a knowledge-based economic development is the creation of a knowledge space that, according to them, 'encompasses the competences of knowledge generation, diffusion and use of the Triple Helix components'. They define consensus space to refer to a venue that brings together actors from different organisational backgrounds and perspectives for generating new strategies and ideas, the ultimate goal being novel discoveries and related innovations. For its part, innovation space refers to new organisational mechanisms that are geared towards 'the development of local innovative firms, in parallel with the attraction of talent and innovative firms from elsewhere, the creation and development of intellectual and entrepreneurial potential, and competitive advantage for the region and the country' (Ranga and Etzkowitz 2013, 247).
Applying Eliasson's (2000) conceptualisation, the competence set is defined as a configuration of generic competences that in direct and indirect interaction generates new knowledge as well as its diffusion and valorisation. In other words, competence set is a group of competences, which belong together or are usually found together. Basically, the competence set refers to the ability to achieve new forms of competitive advantage by highlighting the need to continuously renew competences so as to achieve congruence with the changing environment. Moreover, the competence set model may prove useful in the many efforts to boost innovation spaces, i.e. finding new ways to combine capital, technology knowledge and business expertise. It therefore follows that a competence set is a collection of generic competences widely distributed across the three institutional spheres and hence highlights that competences can be consciously reconfigured, redirected, transformed and appropriately shaped, and integrated into existing competences as well as external resources (cf. Teece et al. 1997). Conversely, missing and/or poor competences may freeze interactive innovation processes and lock them in the past.
A sole focus on actors and the relationships between them, typical of innovation system studies, may even blur the view on how systems actually function and what drives them; hence, it is important to make a distinction between organisations and competences. By approaching actors indirectly through competences, it might be possible to clarify and specify the roles that they play in translating new knowledge into viable products and services. For these reasons, the main rationale in constructing a competence set model is (a) to specify what kind of competences are called for in a Triple Helix constellation and (b) to identify the competences that keep a Triple Helix constellation continuously adapting to changing economic landscapes. The competence set may thus also be used (c) to serve as a tool in a search for systemic failures as well as shared interests, problems, opportunities and capabilities, as suggested in the management literature (Pralahad and Hamel 1990). Consequently, a competence set model is an analytical tool geared towards identifying how different competences of many actors could be integrated with one another both horizontally and vertically in such a way that a constructed set would serve both the entire system and actors embedded into it. The assumption here is that generic competences need to be identified and analysed empirically case by case but a thematic framework is needed to guide the search.
The thematic framework was constructed by identifying studies focusing on innovation system functions, as generic competences are by necessity linked to the most important functions of any innovation system (see Lundvall et al. 2002; Lundvall and Lorenz 2006). In the literature on innovation system functions, knowledge development and diffusion is, quite self-evidently, acknowledged as a key function (Edquist 2005; Hekkert et al 2007; Hekkert and Negro 2009; Bergek et al 2008; Liu and White 2001). For his part, Eliasson (2000) does not discuss knowledge development as such, as his theory is dealing more with selection of winning technologies instead of sources of innovation. Most of the key authors include market formation, framing and creation of strategic awareness of new technologies and mobilisation in their discussion of the key innovation system functions (Edquist 2005; Hekkert et al 2007; Hekkert and Negro 2009; Bergek et al 2008; Jacobsson and Bergek 2004; Rickne 2000). Eliasson (2000), Hekkert and Negro (2009) and Bergek et al (2008) also incorporate in the set of system functions entrepreneurial activity. Edquist (2005), Hekkert and Negro (2009), Bergek et al (2008) and Rickne (2000) remind about the importance of legitimization, and Eliasson and Eliasson (1996) pay extensive attention to venture finances. In line with Liu and White (2001), Eliasson and Eliasson (1996) add detection of end-values in the debate while Edquist (2005), Hekkert and Negro (2009), Bergek et al 2008, Liu and White (2001) and Rickne (2000) emphasise the importance of interaction by highlighting networking, exchange of knowledge and bringing together complementary knowledge.
Following the close reading of the literature on innovation system functions, the competence set model was constructed to cover seven themes for the empirical work on the generic competences. Framing, mobilisation and networking were left out from the framework, as, instead of being system functions, they were identified as generic capabilities cutting through all the functions, and as such, they are embedded in the core competence thinking as well as the Triple Helix model (see e.g. Russel et al. 2015). Instead, drawing upon Eliasson (2000) and Liu and White (2001), industrial production or systematic production was included in the analysis, as it appears as important in the institutionalisation of innovations. The seven themes are the following: (1) knowledge creation and diffusion, (2) entrepreneurship, (3) finances, (4) legitimisation, (5) market formation, (6) systematic production and (7) identifying potential end-values. It is important to keep in mind that the seven functions, labelled here as themes, are not generic competences as such but they are used in the identification of them. Quite naturally, each of the themes includes a variety of specific capabilities that construct a generic competence. In a system-level analysis, the interaction of identified competences provides further empirical analysis with a point of departure in identifying the specific capabilities in a context of a specific transformation process of a specific Triple Helix constellation.
Methodology and case
This paper follows a single case study design to illustrate and highlight how the constructed competence set may play out with a case. The study covers the theoretical middle range in that it aims to understand the emergence of a new industry in its unique context and construct a conceptual model for adding analytical leverage to the Triple Helix model.
The emerging regenerative medicine concentration in Tampere and the prospective Finnish human spare parts industry serves as an example of emerging industry (see Sotarauta and Mustikkamäki
2015
). It does not yet have a direct antecedent in the economy and thus entails the need to construct new competences and/or transform existing ones to support the birth and enlargement of an embryonic industry. The empirical study began in 2014 with the analysis of secondary data, including relevant journals, related newspaper articles, annual reports and respective policy documents. This phase identified the state of the art of the human spare parts industry both locally and globally. Next, 24 people, involved in different capacities in the development of regenerative medicine in Tampere, Finland, were interviewed in 2014 and early 2015. Fifteen of the interviewees were employees of BioMediTech (a joint institute of the University of Tampere and the Tampere University of Technology), and the rest of the interviewees were from local and regional development agencies, Tampere University Hospital, Ministry of Employment and the Economy, the Finnish Funding Agency for Innovation (TEKES) and a local firm. The interview themes were drawn from the competence set model and, in practice, comprised the seven generic competences (see Fig.
1
). The main aim was to construct an understanding of what system-level generic competences are needed to enhance the emergence of science-based human spare parts industry and describe the current situation in Tampere. Competences and capacities related to actual scientific work, knowledge production, are not elaborated, but their importance is, of course, acknowledged, as they form the core in the emergence of any science-based industry.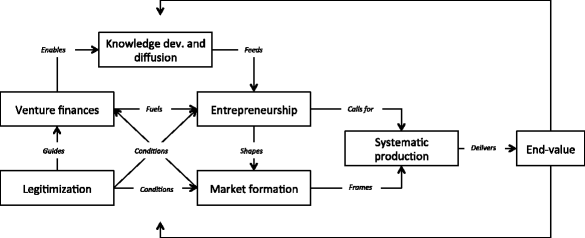 The term regenerative medicine was forged in 2000 and is now widely used to describe biomedical approaches to healing the body by the stimulation of endogenous cells to repair damaged tissues or the transplantation of cells or engineered tissues to replace diseased or injured tissues (Riazi et al. 2009). The basic unit in regenerative medicine is a stem cell. Stem cells are biological cells found in all multicellular organisms. The potential of stem cells in clinical treatments is based on their multipotent ability. Stem cells are able to regenerate tissues and organs and act as building blocks for all tissues in the body (National Institutes of Health 2009). Regenerative medicine (RM) forms the third discipline in human healthcare alongside medicine and surgery (Polak et al. 2010), and, from a business point of view, cell therapy is defined as a fourth pillar in the healthcare industry alongside pharmaceuticals, biopharmaceuticals and medical devices (Mason and Manzotti 2009). Regenerative medicine has grown rapidly, and scientific achievements have created hopes for new treatments for severe incurable diseases, such as diabetes, Parkinson's disease, cancer and heart diseases. The promise of regenerative medicine is very exciting, but simultaneously, the cost of product development, and most notably clinical trials, for high-end applications is very high (Mason and Dunnil 2008a, 351).
In Tampere, the scientific research on regenerative medicine is based on close collaboration between the University of Tampere and the Tampere University of Technology, and the first discoveries were based on collaboration between biomaterial engineers, clinicians, cell biologists, technical experts and animal model experts (Sotarauta and Mustikkamäki 2015). The two universities institutionalised their collaboration in 2013 by establishing a joint research institute, Institute of Biosciences and Medical Technology (BioMediTech), that is a home base for approximately 250 scientists from the two universities. The unique nature of science and technology created at BioMediTech can be illustrated by the fact that in 2008, for the first time in the world, a patient's upper jaw was replaced with a bone transplant cultivated from the stem cells isolated from the patient's own fatty tissue (Sotarauta and Mustikkamäki 2015). The patient had lost roughly half of his upper jaw because of cancer and traditional medicine was unable to offer remedial treatment. In the process, the scientists were able to produce new bone cells by combining stem cells and biomaterials and then grow them into a jawbone of the correct shape and size (with the aid of a titanium frame) inside the patient's stomach muscle (Bionext 2010; Sotarauta and Mustikkamäki 2015).
In 2014, the international evaluation panel that carried out an extensive evaluation of the research activities at the University of Tampere concluded that 'research conducted at BioMediTech has an excellent standing nationally and internationally and the number of research projects and output from these projects is commensurate with the size of the Institute'. The evaluation panel also concluded that the projects are innovative and have clear translational potential in each thematic area of research (Hakala and Roihuvuo 2014). For its part, the international evaluation panel also asked how it would be possible 'to move discoveries from the laboratory or classroom to the clinic and ultimately turn these into products, policies or public information that impacts society' (Hakala and Roihuvuo 2014).
The human spare parts industry discussed through a competence set
Conclusions
This paper suggests that to truly understand the dynamics of the Triple Helix model and how new discoveries are commercialised and diffused into the society, there is a need to study also interacting generic competences that either enhance or hamper collaboration in Triple Helix constellations. Moreover, it is believed that construction of well-functioning innovation and knowledge spaces, and related consensus space, calls for novel ways to analyse and develop interrelated but differing competences from Triple Helix instead of organisational perspectives (see also Ranga and Etzkowitz 2013). For these purposes, a set of generic competences was introduced and discussed, and it was also shown how they play together, or not, in a specific case. The dominant generic competences are related to the generation of new knowledge and the selection of winning knowledge, products and/or services and retention of them in the economy, but, as was shown, several other generic competences are called for in the system to make a lasting impact on the society, to institutionalise the new discoveries. As the case study reported in this paper shows, it may be difficult to move beyond scientific excellence in an emerging field, in which not all the generic competences have developed yet to support each other. Any Triple Helix constellation is by definition a complex ensemble of actors, and as the Tampere case also reveals, in the course of events, it may be fairly difficult to see how the lack of competences related to making sense of emerging markets, debating potential end-values and legitimisation may end up hampering the functionality of consensus and innovation spaces, and thus also seemingly straightforward commercialization efforts.
The main obstacles in a case under scrutiny are related to insufficient funding, difficulties in the technology transfer processes, poor understanding of emerging markets and acquisition of capabilities needed in the form of competent management teams. Many of these issues are beyond what can be expected from universities only, and quite naturally, the emergence of the human spare parts industry is dependent on many competences of all three institutional spheres of the Triple Helix model. It might be possible to argue, for example, that the local university hospital, owned by the local government, ought to integrate new treatments into its standard repertoire, but, in practice, the mix of potential end-values are poorly identified and not properly debated, and thus, it is difficult for the hospital to take necessary measures or even understand what is at stake. And here, the competences of social scientists and/or local politicians might prove invaluable. Moreover, it would be easy to suggest that the universities ought to strengthen their competences related to entrepreneurship, market formation, technology transfer and commercialization, but as important, it is to ask where complementary competences could be found from and how they could be tapped into and integrated into the local Triple Helix constellation. So far, they have been found in the USA and Belgium. In addition, there is a medical technology-specialised local development agency that played a central role in the early phases of regenerative medicine (see Sotarauta and Mustikkamäki 2015), but as the role of intermediaries has been questioned in the Finnish innovation system, it has been disintegrating from more recent developments. Interestingly, from a national innovation system point of view, this may be a well-argued position but, from a competence set point of view, well established, much needed and valuable local competences have been side-tracked more or less unintentionally.
The conclusion, and proposition for future on studies on triple helices, is that a balanced competence set influences positively the functionality of Triple Helix constellations, and more specifically knowledge, consensus and innovation spaces in the core of them, and provides all three institutional spheres with a tool to customise their interaction. It is important to note that the generic competences and a competence set based on them may be universally needed but their manifestations vary across countries and regions; different actors may introduce different generic competences depending on the past path, the system and the expertise of individual actors. Thus, the concept of competence set provides a tool to discuss the roles of various actors in a Triple Helix, and the competences they bring into play, and especially to detect poorly developed or non-existing competences.
Declarations
Open AccessThis article is distributed under the terms of the Creative Commons Attribution 4.0 International License (http://creativecommons.org/licenses/by/4.0/), which permits unrestricted use, distribution, and reproduction in any medium, provided you give appropriate credit to the original author(s) and the source, provide a link to the Creative Commons license, and indicate if changes were made.
Authors' Affiliations
(1)
School of Management, University of Tampere, Tampere, Finland