The Triple Helix after communism: Russia and China compared
Triple Helix
A Journal of University-Industry-Government Innovation and Entrepreneurship
2016
3:1
Received: 2 March 2015
Accepted: 11 December 2015
Published: 21 January 2016
Abstract
Russia and China both are endeavoring to transform Soviet-style R&D systems characterized by separate education, research and business spheres into something more suited to a knowledge economy supporting innovation. The Triple Helix model is an attractive configuration, derived from the practices of the most successful innovation systems, and suggesting that the three key actors—universities, business, and the state—might in some instances substitute for each other. A model placing the state at the center appeals to non-democratic regimes and countries endeavoring to catch up with OECD nations.
We compare the Chinese and Russian efforts to implement a Triple Helix program by examining institutional change, epistemic communities, funding, and the role of the state, with nanotechnology as a case study. While both nations have introduced major programs and allocated significant funding, we find that China has been vastly more successful than Russia in promoting collaboration among universities, business, and government to advance research and innovation. We attribute the difference to the quality of state policies that provide incentives for agents and epistemic communities to alter their behavior, an outcome facilitated by conditions at the beginning of reforms, which made the Chinese far more open to learning.
Keywords
Post-Soviet scienceTriple HelixChinese scienceRussian scienceScience policyInnovation
Resumen
Rusia y China buscan transformar los sistemas de I&D de la era soviética. Desean ir de un sistema caracterizado por educación, investigación y empresa en esferas separadas hacia un sistema mejor integrado y más apto para la economía del conocimiento. El modelo de la Triple Hélice permite un rol más flexible para los actores de innovación—universidades, empresas, y el Estado—donde bajo ciertas circunstancias, un actor puede sustituir a otro en algunas funciones. Ese es un modelo atractivo para países que se esfuerzan por alcanzar a las naciones de la OECD, y en particular para regímenes políticos que desean un rol más central para el estado. Comparamos los esfuerzos de China y Rusia con un estudio de caso: el desarrollo de la nanotecnología. Examinamos cambios institucionales, comunidades epistémicas, financiamiento de investigación, y el papel del Estado. Mientras que ambas naciones han introducido programas de promoción para la innovación y han asignado fondos importantes para esos proyectos, China ha sido mucho más exitosa que Rusia en la promoción de la colaboración entre universidades, empresas y el gobierno. Atribuimos la diferencia a políticas de incentivos (tanto para agentes individuales como para comunidades epistémicas) que han modificado el comportamiento de los actores de innovación y han permitido a las organizaciones Chinas adaptarse y aprender mejor de su experiencia.
Résumé
La Russie et la Chine se sont engagées à transformer des systèmes de recherche de type soviétique caractérisés par la séparation des sphères des affaires, de l'éducation et de la recherche en quelque chose de plus convenable à une économie du savoir base de l'innovation. Le modèle de la Triple Hélice est une configuration attrayante dérivée des pratiques des systèmes d'innovation à succès ; il suggère que les trois acteurs clés –université, entreprise et pouvoirs publics- doivent se substituer l'un à l'autre dans certaines mesures. Un modèle qui place l'Etat au centre rappelle des régimes non démocratiques et des pays en retard par rapport aux nations membres de l'OCDE. Nous comparons les efforts de la Chine et de la Russie à mettre en œuvre le programme de la Triple Hélice en examinant les changements institutionnels, les communautés épistémiques, le financement et le rôle de l'Etat, le domaine de la nanotechnologie servant d'étude de cas. Les deux pays ont introduit des réformes majeures et alloué significativement des fonds; cependant la Chine a largement mieux réussi que la Russie à promouvoir la collaboration entre université, entreprise et pouvoirs publics pour faire avancer la recherche et l'innovation. La différence est due à la qualité des politiques publiques qui incitent les agents et communautés épistémiques à changer de comportement. Ce résultat est favorisé par les conditions initiales des réformes qui font de la Chine un pays de loin ouvert à l'apprentissage.
摘 要
俄罗斯和中国都在努力从以教育、科研和商业领域彼此独立为特征的苏维埃式R&D体系向更适合于支持创新的知识经济体系转变。三螺旋模式是个有吸引力的配置,它来自对最成功的创新体系实践的观察,主张三个创新主体--高校、产业和政府 -- 在某些情况下可以(在功能上)相互替代。一个将国家置于中心地位的模式对应着非民主政体和正在努力赶上经合组织国家的国家。通过考察制度变革、认知共同体、资金和国家(政府)的作用,并以纳米技术作为案例研究,我们比较了中国和俄罗斯在实现三螺旋项目方面的努力。我们发现,虽然这两个国家都已经引进主要项目、分配重大资金,但在促进高校、企业和政府之间合作进行研发和创新方面,中国已经取得更大得多的成功,远远超过了俄罗斯。我们将差异归咎于国家政策的质量,这些政策为中介机构和认知共同体提供激励改变自己的行为,它们是在改革之初由环境促成的结果,使中国更加开放去学习(先进的东西)。
Аннотация
Россия и Китай прикладывают значительные усилия для того, чтобы привести научно-исследовательские системы советского типа, для которых характерно разделение сфер образования, исследований и бизнеса, к инновационно-ориентированным экономическим системам, основанным на знаниях. В данном контексте модель Тройной спирали является привлекательной, поскольку в ней аккумулирован опыт наиболее успешных инновационных систем: она основывается на трех ключевых акторах – университеты, бизнес и государство, которые в ряде случаях могут замещать друг друга. Вариант модели, где власти отводится ведущая роль, обычно базируется на недемократических принципах; такие экономические системы стремятся приблизиться в своем развитии к странам OECD (Организация экономического сотрудничества и развития).
Мы сравнили инициативы России и Китая, предпринимаемые в области внедрения принципов Тройной спирали, исследовав изменения в институциональной сфере, финансировании и степени вовлеченности государства, на примере нанотехнологий. Несмотря на то, что в обеих странах в данной сфере реализуются стратегические программы и выделяются значительные средства, мы обнаружили, что Китай более успешен, чем Россия в контексте укрепления сотрудничества между университетами, бизнесом и правительством в вопросах поддержки научных исследований и инноваций. Мы связываем это различие с качеством правительственных стратегий, которые стимулируют участников и их объединения к смене модели поведения на начальном этапе реализации реформ, благодаря чему Китай является более открытым к новым знаниям.
Resumo
Russia e China estão ambos se esforçando para transformar seus sistemas P&D de estilo soviético, caracterizado pela separação das esferas de educação, pesquisa e empresa, em algo mais adequado para economia do conhecimento que apóie a inovação. O modelo de Hélice Tríplice é uma configuração atrativa derivado das práticas de sistemas de inovação mais bem-sucedidos, e sugere que os três atores chave – universidades, empresa e governo— podem em alguns casos, substituir um ao outro. O modelo que coloca o papel central no governo é observado em regimes não democráticos e países que se esforçam para recuperar o atraso em relação às nações da OCDE. Nós comparamos os esforços russos e chineses para implementar um programa baseado na Hélice Tríplice, examinando a mudança institucional, as comunidades epistêmicas, o financiamento e o papel do governo, tendo a nanotecnologia como estudo de caso. Embora ambas as nações tenham introduzido grandes programas e alocado recursos financeiros significativos, nós verificamos que a China tem tido muito mais sucesso do que a Rússia em promover a colaboração entre universidades, empresas e governo para avançar a pesquisa e a inovação. Nós atribuímos esta diferença à qualidade das políticas de estado que fornecem os incentivos aos agentes e comunidades epistêmicas para alterar seus comportamentos, um resultado facilitado pelas condições no início das reformas, o que fez os Chineses muito mais abertos ao aprendizado.
Multilingual abstract
Please see Additional file 1 for translation of the abstract into Arabic.
Nations aspiring to great power status in the twenty-first century share the goal of developing knowledge economies capable of innovation to undergird prosperity and modern military capabilities. The Soviet model of state financing for separate higher education, basic research, and industrial research institutions failed in this competition. Nearly all former communist nations now are endeavoring to reform their education and research systems, with some new EU members and several Asian countries doing moderately well. The CIS nations are having more difficulty. China and Russia, the two largest post-communist economies and the two countries aspiring to great power status, provide stark contrasts in their success adapting the Soviet model to twenty-first-century competition. The comparison is of particular interest because China adopted the Soviet system with significant assistance from the USSR in the 1950s (Bernstein and Li 2010).
To state the difference bluntly, China is achieving more than anyone dreamed possible when Deng Xiaoping first announced reform and openness, while Russia is failing in ways few anticipated. Following economic, educational, and scientific reforms in the 1980s and 1990s, China has emerged in the 2000s as a world leader in scientific publications and patenting and is poised to compete in innovation (Balzer 2010; 2014; Strategy& 2014; Huang and Sharif 2015; McKinsey 2015). Russia has steadily declined in global higher education rankings, scientific influence, and innovation (Kotsemir 2012; Balzer 2010). Why has China been more successful in reforming the Soviet model? Our solution to this puzzle emphasizes China's thick compared to Russia's thin international integration, stemming from the interaction of epistemic communities, economic interests, and state agents since the start of reform efforts.
The complex synergy among business, the state, and higher education institutions to produce innovation has been discussed since the 1950s. In the past two decades, the relationship has been codified in the "Triple Helix" model. The Triple Helix literature describes innovation through two explanatory frameworks encompassing the government, academia, and business. Etzkowitz and Leydesdorff's (2000) Triple Helix model links institutional and evolutionary explanations of innovation, the former focusing on the configuration of university, industry, and government networks, the latter emphasizing selection preferences.
The institutional explanation emphasizes networks creating converging discourses that promote both information sharing and the alignment of research agendas among the three institutional actors. Etzkowitz and Leydesdorff hypothesize multiple potential institutional configurations reflecting a variety of political-economic structures, ranging from a fluid laissez-faire system to a Soviet-style state science system. The network of institutional relations, along with the resources allocated and the creative environment, determines a nation's potential for innovation, extending from basic research through the commercialization chain. Institutional arrangements are analyzed both horizontally at various different scales (local, regional, national, global) and vertically across those scales.
Where the institutional model emphasizes relations and networks, the evolutionary model highlights three different functions related to innovation: wealth creation, knowledge production, and normative control. These processes, while having natural "homes" in business, academia, and government, respectively, may be replicated or substituted by the other spheres. In this model, innovation "evolves" through the selection preferences of agents: those focused on wealth creation select for innovations that promise a profit, actors focused on knowledge select for innovations that advance science, while actors focused on control select for innovations in line with the norms they seek to advance.1
In both China and Russia, analysts have embraced the Triple Helix, frequently focusing on the potential for the state to facilitate or even foster the creative process (Zhou and Leydesdorff 2006, Leydesdorff et al. 2015, Klochikhin 2012). This discussion sometimes downplays the crucial distinction between "facilitating" and "fostering." A state capable of promoting innovation will also have the capacity to inhibit innovation, either through bad policy or predatory behavior by agents. What determines when state policy successfully stimulates rather than deters innovation? China and Russia present striking contrasts in their relative success in reforming institutions and creating incentives that facilitate innovation economies. Despite beginning from very similar innovation systems, China is developing institutional capacity and incentives that encourage the learning needed to compete in global technology development; Russia is dissipating its inherited science-technology capacity and becoming increasingly less competitive.
We begin with a discussion of the Triple Helix model in transition economies, noting important varieties of state behavior. We then elucidate the China-Russia difference in facilitating a triple helix model by focusing on the astonishing reversal in their standing in the global knowledge economy. We attribute the outcomes to differences in institutional adaptation, the behavior of epistemic communities, the nature of funding, and the role of the state. We illustrate the different outcomes by comparing results in the priority field of nanotechnology. Our conclusion emphasizes China's greater flexibility, learning, and internationalization.
The Triple Helix model in transition economies
An energizing optimism in the Triple Helix model, especially for developing nations, derives from offering a short-cut to catching up with more developed nations. In some instances, a degree of catch-up has been achieved (Dallago and Guglielmetti 2011; Bohle and Greskovits 2012). But, creating a competitive Triple Helix infrastructure is a protracted and expensive process, and, in many cases, deriving significant benefits from participating in the global knowledge economy has proved elusive.
China and Russia are by far the largest former communist countries, and each can cite significant scientific achievements in their past. Both adopted the Soviet system based on research conducted by academies of science and industrial research institutes, with universities relegated overwhelmingly to teaching (Graham and Dezhina 2008; Balzer 1993; Gustafson 1980). While neither has fully reformed its system, China has accomplished significantly more.
The experience of former Communist countries endeavoring to parlay a vaunted but deeply troubled science and education system into a twenty-first-century innovation economy not only highlights some of the most serious limitations of Soviet-style systems, but also offers insights regarding the Triple Helix model itself. In particular, these cases help us to refine discussions of the role of the state.
Etzkowitz is certainly correct that "the transition from industrial to post-industrial society has encouraged a shift in the role of government in both directions." However, the results have varied tremendously. In Russia, productive "bottom-up initiatives" tied to the "emergence of regions" and "growth of civil society" have been conspicuously absent. Following the supposed "chaos" of the 1990s, Russia's government has emphasized control. Bottom-up initiatives are viewed with skepticism, regions are rewarded on the basis of political loyalty rather than being given incentives to foster initiative, and civil society groups receive funding based on political criteria rather than creative contributions (Balzer 2008; Rochlitz et al. 2015). The incentive structure encourages local officials to be predatory more often than developmental. The contrast with China in this regard is striking.2
Much of the Triple Helix literature assumes that governments genuinely want to encourage economic modernization, with a key role in the global knowledge economy being a major development priority. For those who respect and approve of the model, wanting to be part of this global development project appears an obvious goal. The assumption that governments and individual actors, especially regional officials and epistemic communities, uniformly share the desire to reshape institutions to achieve Triple Helix benefits plays down instances of resistance on the part of government officials, scientific institutions, and epistemic communities.
The post-communist cases provide a unique realm for examining the inevitable contention as states develop policies to engage the knowledge economy. Rather than lifting all boats, the process produces winners and losers. Communist states had similar institutional systems, and most saw themselves as full participants in the "scientific-technical revolution." The similar institutional starting points and ethos of technocracy bequeathed by the Soviet model help sharpen our perspective on the role of the state in successful innovation systems. Moreover, we can observe the degree of success in the difficult transition from state-dominated to a more balanced institutional framework.
A burgeoning literature on twenty-first-century innovation emphasizes the crucial importance of the state (Mazzucato 2013; Breznitz 2007; Block 2011; Breznitz and Murphree 2012). Yet, achieving a creative balance in formerly high-state environments involves more than just reducing the state's role. The optimal outcome is to find ways for the state to be both playing field and participant. Sometimes the state may take the lead, substituting for industry or academia (Etzkowitz 2008). But, taking the lead is not the same thing as taking over. The communist experience demonstrated that state-run economies are not particularly effective at fostering innovation. Authoritarian regimes may achieve some priorities (weapons, space launches), but they more often stifle creativity (Balzer 1989; Gaddy 1996; Bychkova et al. 2015).
Rather than a strong state, the Triple Helix system requires an effective state. Etzkowitz (2008: 82) emphasizes that successful Triple Helix synergies depend on "political organizations, industrial entities, and academic institutions that work together to improve the local conditions for innovation [emphasis added]." He suggests that "if one element is missing, or constrained from participating, another may take its part." The local or regional level is the key government player. While some city-states and small countries might be able to have broad "national innovation systems," large nations with complex economies fare better when they allow considerable local and regional discretion. China, whether intentionally or not, has achieved this far more successfully than Russia (Balzer 2008).
It is equally crucial for government to be able to learn and adapt. In discussing "necessary and sufficient conditions" for a Triple Helix system, Etzkowitz (2008: 87) notes that success requires not just creating hi-tech firms, "but the ability, over the longer term, to generate additional clusters as earlier successes are superseded." The Boston area accomplished this when it shifted from computers to biotechnology (Etzkowitz 2008: 87-88). Here, the entrepreneurial university helped a region to "transcend a particular technological paradigm and renew itself through new technologies and firms generated from its academic base" (Etzkowitz 2008: 88). The Triple Helix means "the interaction of institutional spheres will induce nonlinearity, crossover, and coevolution" (Etzkowitz 2008:104). Flexibility that permits shifting roles over time is one major element of success.
Breznitz's (2007) discussion of Ireland, Israel, and Taiwan illustrates a range of state policies that facilitate innovation. None is perfect; each works reasonably well in its environment. In each of the three cases, the key is not that the state is able to create the "best" policy, but that it helps to facilitate an environment conducive to successful innovation. This conclusion parallels Segal's (2003:15) analysis of Chinese regional government approaches to the IT industry. Segal invokes the importance of a "good mother-in-law": a local government that on-balance is more nurturing than obstructive, and limits predation. Individual agents of any government are likely to adopt varied approaches. Some individuals may behave differently when dealing with different interlocutors, at different times, and in different situations. Whether they know the people involved, the size of the financial inducements offered, prevailing "atmosphere" (in particular government enforcement of anti-corruption laws and intermittent campaigns), and overall calculations of risk and reward in any particular transaction will influence individuals' behavior. Family finances, extended kinship, and other networks may also play a role. No government, local, regional, or national, is likely to be entirely clean or completely corrupt. Yet, we can begin to determine when the preponderance is relatively more developmental compared to environments that are more obstructionist or more predatory.
At all levels, the potential for government to substitute successfully for industry or academia assumes a government that is more developmental than predatory, along with epistemic communities that learn to recognize the benefits of international collaboration and competition. These are not either/or distinctions. Local officials might promote development for a variety of reasons, ranging from altruism or a sense of social responsibility to career advancement or venality. Different projects may involve different combinations of motives. In democracies, elected officials are accountable to voters. In non-democratic systems, the crucial factor is an incentive structure that encourages local officials to foster development and limit predation.
Russian scholars Irina Dezhina and Viktoria Kiseleva (2008) produced an impressively thorough analysis of the Triple Helix model, focusing on the experience of other countries. In their conclusion, they provide a compilation of the lessons and "best practices" for a successful innovation system that might be applied in Russia. Yet the drawback to combining all the best practices is known to any systems engineer: systems involve trade-offs, and trying to optimize every aspect of a system at once may produce disaster. While engineers constantly endeavor to improve every component, they must always work with a set of priorities regarding what to optimize. This suggests that a generic approach to "optimizing innovation" will not do as well as a targeted effort to identify the "best practices" that accord with a country's comparative advantage. Even best practices "with national characteristics" may not be adequate. Bychkova et al. (2015) note that Russian policies mandating that industry collaborate with academia to foster innovation have largely failed.
Russia's performance compared with China's demonstrates an astonishing reversal across a broad spectrum of knowledge economy indicators.
During this same period, China climbed from sixth to second place in its share of world publications, with a 13.62 % share (Kotsemir 2012). China's growth from 44,575 to 184,029 publications represented a more than fourfold increase.3
Chinese publications also are cited less often than those by scientists from developed countries. Unlike Russia, however, China's trajectory has been an increasing number of citations per paper, in part because Chinese scholars publish more in the most dynamic fields of twenty-first-century science. While both the Chinese and Russian governments have made increased global publications a significant priority, institutional weakness and "brain drain" have made this difficult for Russia, while China's openness to partnerships and some reversal of brain drain have aided a global rise in Chinese publications. Chinese scientists now contribute more to collaborative projects with scientists from all nations except the USA and Germany (P.T 2015).
These data suggest that China's government, if not always developmental, has been remarkably pragmatic. A significant share of Chinese officials have evinced willingness to learn from both foreign models and successful local policy innovations. This has been encouraged by an incentive structure rewarding economic success and by support from the beneficiaries of reform and members of epistemic communities who embrace international standards of professional behavior (Zweig 2002; Howell 1993; Pei 1994). The contrast with Russia is striking and is clearly visible in the speed of institutional change.
Nanotechnology
In the early 2000s, nanotechnology was accorded priority status in Russia's plans for science-based economic development. President Putin suggested that Russia should capture its fair share of the projected multi-trillion dollar global nanotechnology market. China, with far less fanfare, also has given nanotechnology a high priority. Based on publications and patents, China's lower-key approach appears to be generating greater returns (Fig.
5
).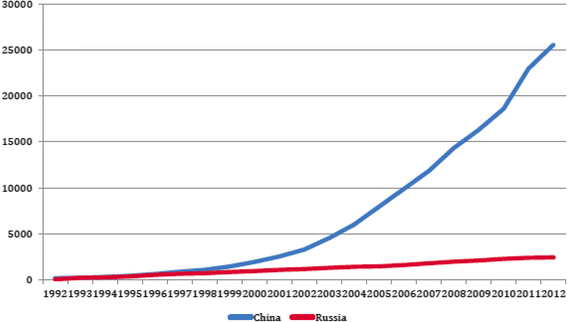 Russian capacity in nanoscience may be traced back to intensive Soviet investment in materials science and chemical research. While disadvantaged by underinvestment in laboratory equipment and a comparatively closed scientific system, Soviet scientists nonetheless held their own in the newly emerging field of nanoscience, contributing foundational work in quantum dots, heterostructures, carbon nanotubes, and graphene (Josephson, 2010).
Despite this early success, nanotechnology was a questionable choice as a priority field for Russia. Soviet S&T was notoriously "stovepiped," with scientists rarely working across disciplines. Yet much nanotechnology research involves inter-disciplinary collaboration in fields such as bio-physics.
In 2006, responding to the launch of the US National Nanotechnology Initiative in 2000, Russia announced a "Program on Coordination of Nanotechnology and Nanomaterials Development" (Neufield 2011). The following year, the government introduced two important research initiatives: a National Nanotechnology Network (a government R&D initiative to encourage nanoscience research in Russia's universities and institutes) and the Russian Corporation of Nanotechnologies (RusNano), a technology investment company to foster public-private partnerships and spin-off commercialization surrounding nanoscience (Westerlund 2011).
In 2008, as part of Dmitry Medvedev's modernization initiative, nanoscience was reaffirmed as a priority area for research investment. These efforts ranged from substantial research grants for scientists working on nano-scale projects to commercialization and entrepreneurship initiatives. The budgets involved were generous. For more than 4 years, Russia led the world in nanoscience research investment on a Purchasing Power Parity (PPP) basis (Westerlund 2011).16
If throwing money at the programs were an adequate strategy, Russia would be doing extremely well. However, Russia's substantial investment thus far has produced neither an increase in significant publications nor any visible breakthroughs in technology (see Fig. 5).17
China's effort in nanoscience has been in many ways the inverse of Russia's. Over the past 30 years, sustained investment in scientific enterprises, reform of China's university system, and dynamic research and development growth have moved China from a backwater to a leader in applied science. This remarkable result in many ways parallels the changes to the Chinese economy, with regional policy experimentation driving economic openness and increased global integration.
Recent studies demonstrate the rise in China's stature in nanotechnology publishing and patenting, while complicating any simple explanation for the success. Applebaum et al. (2011) emphasize the role of the state in China's nanotechnology achievements, in particular through financing basic and applied research, stating that China "still suffers from a lack of private investment capital." This assessment contradicts the data on business funding of R&D in China, which has grown steadily both in the general economy (Organisation for Economic Co-operation and Development 2013b) and for nanoscience (Harper 2011). The discrepancy stems in part from some of the business financing of R&D coming in the form of government funds passed through the private sector.
Other research confirms the growing return on China's investment. Li et al. (2014), Wang et al. (2012), and Mehta et al. (2012) all find Chinese nanotechnology researchers actively publishing, with a growing number of the publications representing collaborative work with Chinese and other colleagues outside China. Bhattacharya and Shilpa (2012) extend the analysis of China's growing role beyond bibliometric indicators to include innovation. They find that China has performed quite well in establishing standards and developing products and processes.18 Motoyama et al. (2014) describe the diffusion of nanotechnology research beyond Beijing and Shanghai to a growing number of Chinese nodes.
The nanotechnology case illustrates the markedly different results achieved through state programs and increased spending in Russia and China. China is now in discussions with Russia about providing financing for some of Russia's nanotechnology projects. As in many recent Russia-China negotiations, price and performance will be important factors. Will China insist on conditionality regarding the monitoring and effectiveness of Russian spending? In the summer of 2014, conversations with social and natural scientists in Moscow and St. Petersburg almost always included some comment about their being told to focus on China and even to learn Chinese. Anecdotal evidence indicates an increase in Chinese universities and technology companies hiring Russians, either as staff or consultants (Zhdanov 2013; Qi 2015).
Space does not permit a discussion of the life sciences, but available evidence indicates a similar situation in this equally crucial realm of scientific activity (Jonkers 2010; Rekord 2013; Sagieva 2011; Roffey 2010).
Conclusion: explaining China's relative success
Many nations that profited from the expansion of global trade in the 1980s have failed to develop robust R&D sectors or technology-based industry. Few of them, however, began with the massive scientific-technical base created in the Soviet Union, and none has spent as much as Russia on the effort. Why is China outperforming Russia in so many ways?
Attempts to answer this question have emphasized government policy, historical continuity, geography, and initial conditions. Others cite Party control, China's strength in the sciences earlier in its history, proximity to dynamic innovation clusters in Asia, and the advantages of backwardness. None of these explanations withstands a comparative test (Balzer 2008).19 Rather, the explanation involves incentives to transform institutions and practices, focused in particular on government agents and epistemic communities.
If China's success were due to state policy, then we should expect the state sector to lead the economy. However, it does not. China's "economic miracle" has been overwhelmingly a story of growth outside the state sector, even if connections to the Party and State have often been crucial to success. Lardy (2014) finds that the private sector is not only more vibrant and productive, but also accounts for a greater share of China's economy than official statistics suggest. Hong and Nong (2013) calculated that if all the subsidies, low-interest loans, and discounted inputs are tallied, most Chinese SOEs are failing to generate any profits, and many are loss-making.
Historical continuity arguments fail to account for significant interruptions in performance, and the lack of a corresponding "return to normal" in other nations with long histories. How does the impressive history of Chinese inventions recounted by Needham explain China's lagging behind Japan, Korea, and Taiwan in the twentieth century? It took China centuries to begin to restore the role it played in the world before the Ching, and China's role today is quite different. Developing a role in global technology networks requires identifying niches and learning how to fill them. No nation automatically returns to a "lost" status from its earlier history due to some cosmic process that restores "natural" positions.
Geography is equally problematic. Proximity to Asia is not necessarily more beneficial than proximity to Europe. For all the talk about Asian industrial clusters and dynamism, Europeans are still wealthier, and Germany is certainly as valuable a partner as Japan.
Many accounts of China's remarkable economic and industrial rise have emphasized some version of the "advantages of backwardness." Late industrializers have the benefit of learning from, copying, and stealing from the developed nations. But, not all underdeveloped nations develop. Emphasizing peasants not protected by a welfare system, (Sachs and Woo 1994) explains neither the development problems in Latin America, India, and Africa nor the success in Central Europe and the Baltic nations that shared Soviet-style systems.
For some economists, Russia's becoming a hydrocarbon-exporting petro-state is a convincing explanation. But Norway, with a far less impressive scientific tradition, has managed its resource boom far better. Mexico, with (until 2014) a state oil monopoly and much less claim to knowledge economy status, has a more diversified economy than Russia.
A less sweeping but more plausible explanation involves China's central government under Deng promoting reform, some regional officials pushing the reforms further and faster than Beijing intended, and Beijing accepting successful development rather than insisting on control. The Chinese state did not accomplish economic development, but did facilitate it. Coalitions of government reformers, local cadres, successful entrepreneurs, and domestic and foreign investors managed to consistently face down challenges to reform (Zweig 2002; Howell 1993; Pei 1994). In an environment offering incentives, many Chinese academics and researchers embraced opportunities provided by openness. Some professionals, including many with experience abroad, pushed for internationalization for careerist and material reasons as well as to promote development (Zweig 2002). No comparable social forces have emerged to promote sustained internationalization in ostensibly "democratic" Russia.
If any of China's "initial conditions" made success possible, it was beginning reform immediately after the Cultural Revolution, when academic and political elites had been "sent down" in droves and lacked professional self-confidence. This presents a sharp contrast to Russia, where the university and academy scientific communities were strongly entrenched when Gorbachev came to power and have largely resisted reform (Balzer 2013). Putin has in many ways encouraged their conservatism.
In June, 2014, Balzer spoke with Andrei Fursenko, former Minister of Education and Science and now advisor to President Putin on these issues. In the course of the conversation, Balzer mentioned his comparison of China and Russia, emphasizing Chinese willingness to learn compared to Russian resistance to being tutored by anyone. Fursenko immediately launched into the following monologue:
An Iranian scientist writes an article on nanotechnology, has someone check the English, and sends it out for peer review to an international journal. He gets back some critical reviews, usually suggesting major changes, and uses the information both to improve the article and improve his/her research. He might have to do this several times before getting a "revise and resubmit" that indicates the article has a reasonable chance of being published. The Iranian scientist makes the requested revisions, and publishes the article. A Russian Academy of Science nanotechnology specialist sends a manuscript out for review, gets critical comments and suggestions for revisions, decides the reviewers are idiots who do not understand his work, and publishes the article in Russian in a journal where everyone knows him. No improvement; no learning. Russian scholars simply ignore the feedback. This is why Iran ranks 7th in the world in nanotechnology publications, while Russia ranks 14th.
One year later, in another interview in Moscow, Fursenko stated that for Russia, the era of learning from the West was over, proclaiming that "Americans are not capable of accepting anyone who is not willing to be an obedient child. We are tired of this." The change within 1 year is startling, and suggests a significant turn inward. Fursenko added that this "will last for 20 years."
Many of the academics most strongly supportive of reform and most thickly integrated with the international community have left Russia. Russia has not matched even China's moderate success in getting some of them to return (Balzer 2010). This highlights a key factor in Triple Helix analyses: the role of timing and sequencing in determining what effect changes in any aspect of the innovation system will have. Without the weakening of the Chinese scientific establishment in Mao's final decade, Deng's reforms would have encountered greater resistance. Reform and openness might still have prevailed, but the path would have been longer and more costly.
China's greater success in reconfiguring the Soviet-type R&D system and integrating research and educational institutions with technology businesses stems from a combination of factors: upgrading the status and quality of at least some universities by making them research centers as well as training facilities; introducing competitive funding and peer review; encouraging regional development through career incentives and revenue-sharing; and supporting effective international linkages. Perhaps most important, successful regional development in China has generated industries that have increasingly sought improved technology through cooperation with research institutes and universities. China is now shifting from the 1970s model of providing cheap labor for Japan, Taiwan, and South Korea as those nations moved up the value-added production chain. Some Chinese firms now seek lower-wage labor in Cambodia, Burma, Africa and elsewhere as they move to higher value-added activities (Davies 2013).
Willingness to learn and pragmatism accompanied by thick integration with the global education, scientific and industrial communities have been crucial to China's success. The Chinese academic community has been more willing to adopt global best practices and accept major reforms. The process has hardly been linear or devoid of conflict. Success has been driven by collaboration between government officials and members of the Chinese academic and business communities who perceive globalization as the key to China's development. They have been aided by Chinese who have returned after spending significant time abroad, and who insist on global standards if they are to work in China (Jonkers 2010). Moreover, a strong manufacturing base provides manifold opportunities for university-industry collaboration, as manufacturing generates problems that require scientific expertise to solve, creating space for creativity and theoretical insights outside of the ivory tower (Block 2011).
The China story should not be idealized. The process has been difficult and disruptive. Not everyone supports the changes. Every reform produces new "winners" who may resist further change (Hellman 1998). Corruption remains a problem, and the pressure to publish and patent has encouraged abuse. Some of China's requirements for publication compel scholars to substitute quantity for quality, while annual quotas for publications may deter scientists from publishing truly important articles that require substantial time. A Chinese scientist did recently share the 2015 Nobel Prize in physiology—a major goal of China's science program—but Tu Youyou was a retired specialist in traditional medicine who was not involved in the government's priority projects.
Our greater optimism regarding the Chinese case stems not only from China's more impressive trajectory in publications, patents, and technology-based industry, but also from China's far greater reliance on bottom-up development, a key driver of Triple Helix success. Chinese regions have been given significant leeway to find successful development strategies, and frequently their success has resulted in changes in government policy (Zweig 2002; Zhou 1996; Nee and Opper 2012; Florini et al. 2012). Some enterprises, entrepreneurs, researchers, and educators have managed to find ways to improve the economy. The state, at least until Xi Jinping became President, General Secretary, and Chairman of the Central Military Commission, played an increasingly less dominant role. Many Chinese officials adjusted to the importance of facilitating rather than controlling.
Nothing guarantees that China's success will continue. Since 2012, the country has been undergoing a "Xi change." Along with a serious campaign against corruption, Xi Jinping has sought to increase CCP involvement in many areas of Chinese life and exert greater control. These policies, while ostensibly aimed at providing more balance and equity, entail the risk of stifling the bottom-up and private initiative that have been responsible for much, and probably most, of China's success.
Ironically, many of Xi's policies look increasingly similar to Putin's. Russia under Vladimir Putin remains excessively focused on control and promoting the state sector. There has been far less learning. Bottom-up development is not only more effective, but also less expensive than top-down programs. Large state programs invite corruption, and failure entails high costs. Small, bottom-up projects may have a high failure rate, but the costs of any individual failure are far less.
Though both Russia and China inherited state-centric innovation systems, China has done far more to adapt to a Triple Helix environment. Government policy has encouraged cooperation: Businesses invest, universities collaborate, SMEs innovate.
The data presented by Simachev et al. (2014) go a long way toward explaining the absence of more than "double helixes" in Russia discussed by Dezhina and Kiseleva (2008). That a double helix may be stable while a triple helix is dynamic raises an important issue for authoritarian regimes that emphasize control. If Dezhina and Kiseleva are correct that Russia has not developed more than a double helix in its innovation system, this may well suit the bureaucratic authoritarian preference for predictability and stability, rather than the permanent dynamic flux inherent in a triple helix system.
The major question facing China is whether the coalitions favoring reform and openness will continue to prevail over vested interests and efforts to increase Party/State control. In Russia, the Soviet legacy still renders Russian professionals and policy makers less inclined to learn, while Putin's turn to nationalism enhances a sense of exceptionalism that will prove painfully self-destructive if it continues to disrupt linkages between Russian and global science. Shifting the state's role from a control mechanism to a facilitator is not an easy transition, but it remains no less crucial for being elusive. Thus far, China's more pragmatic embrace of a "Triple Helix model with Chinese characteristics" is highly instructive in comparison to Russia.
Declarations
Open AccessThis article is distributed under the terms of the Creative Commons Attribution 4.0 International License (http://creativecommons.org/licenses/by/4.0/), which permits unrestricted use, distribution, and reproduction in any medium, provided you give appropriate credit to the original author(s) and the source, provide a link to the Creative Commons license, and indicate if changes were made.
Authors' Affiliations
(1)
Department of Government, ICC 681, Georgetown University, Washington, DC, USA
(2)
Department of Politics and International Relations, University of Oxford, St Cross College, Oxford, UK
Copyright
© Balzer and Askonas. 2016